Simplify and Strengthen Compliance with UK SOX
---
The MetricStream UK Sarbanes-Oxley (SOX) Compliance solution enables enterprises to effectively address SOX compliance challenges and automate internal controls management. The UK SOX software solution supports the process of setting up a SOX compliance framework, planning and scheduling risk assessments, and performing control tests and assessments. It also helps in managing evidence collection and other documentation, remediating issues, and performing certifications and sign-offs. Complex organizational hierarchies can be mapped in an organized manner with clearly defined lines of responsibility and accountability.
READ MORE Product Description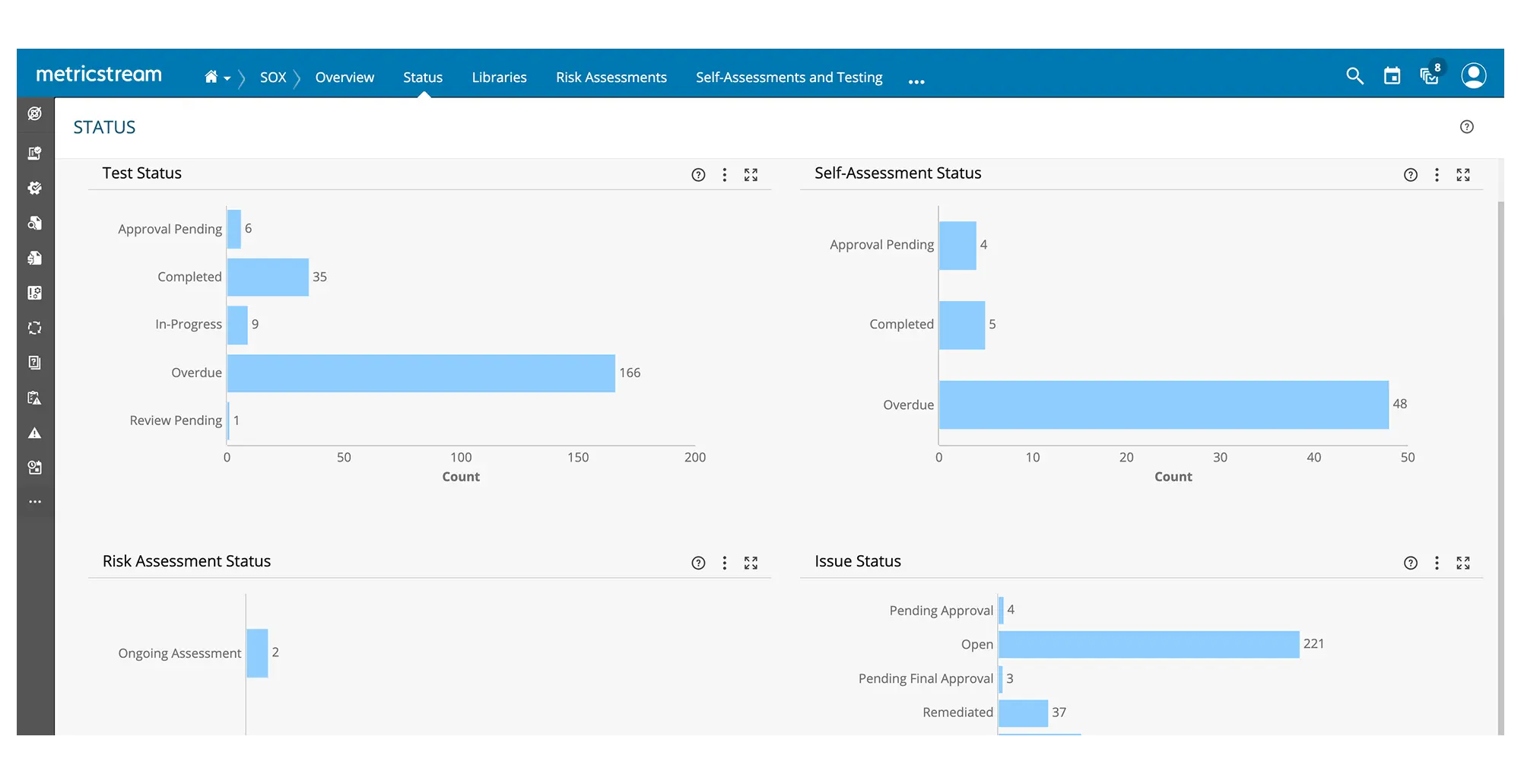 How Our UK SOX Compliance Solution Helps You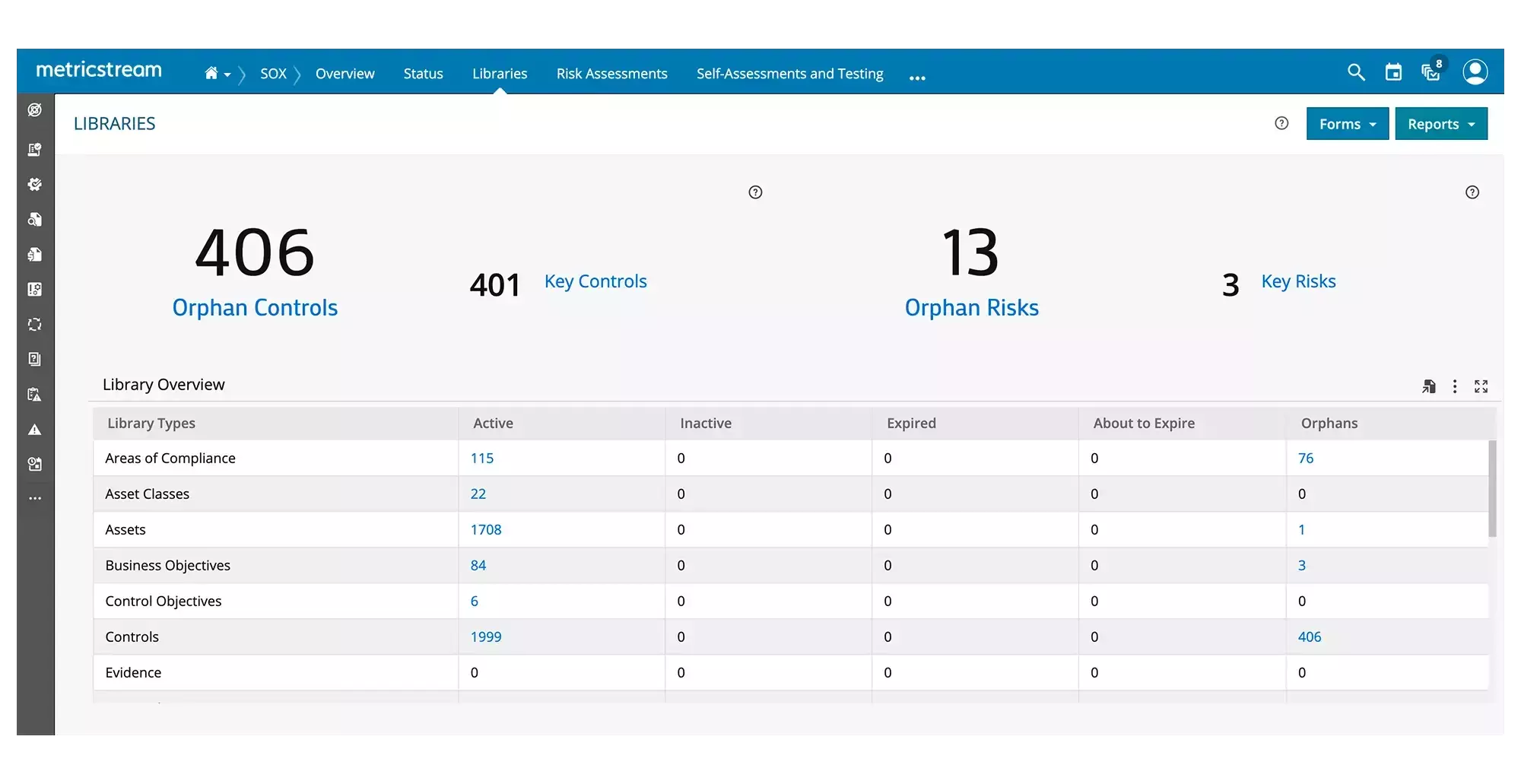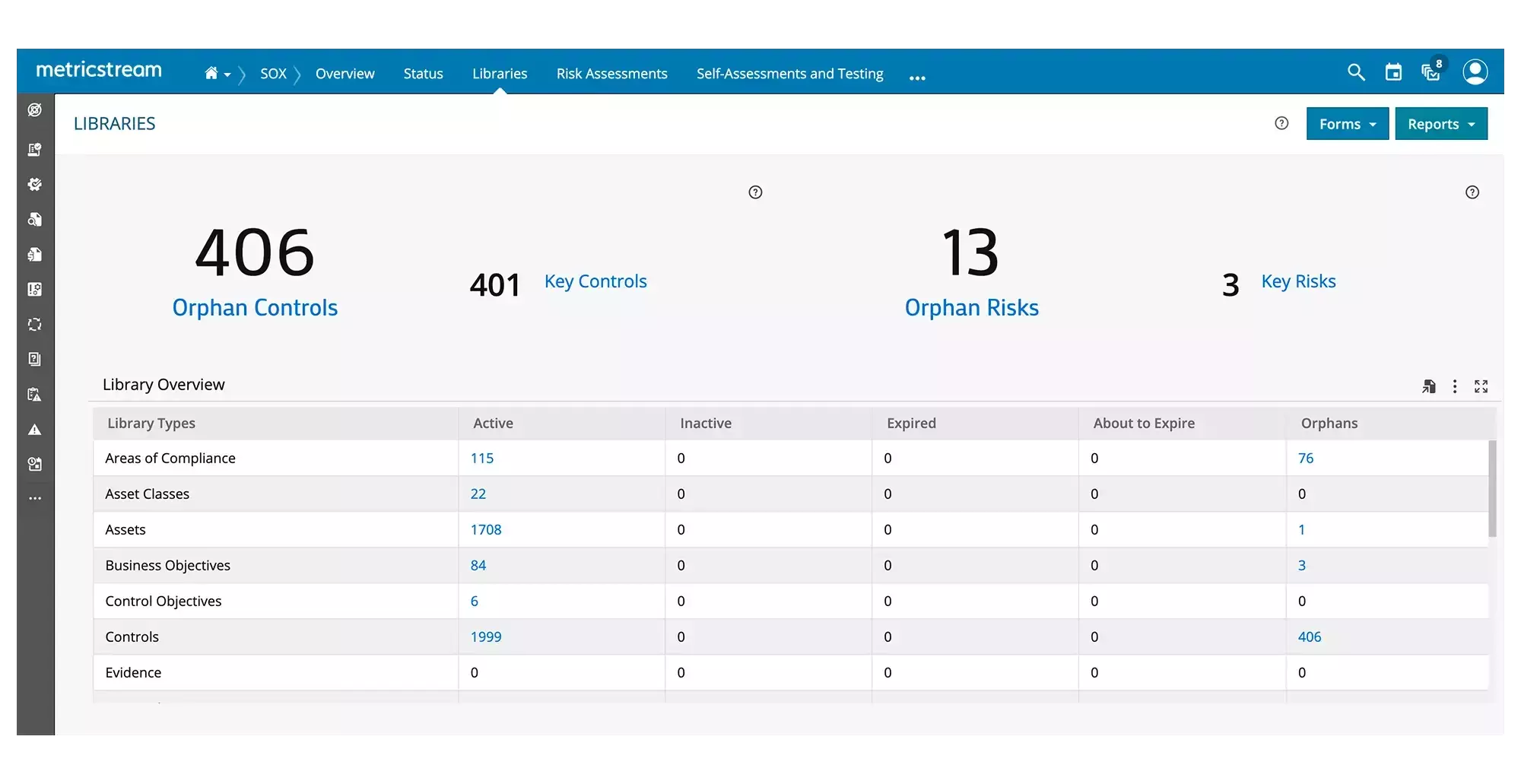 Centralized Compliance Framework Enabling Efficient Mapping of Relationships
Implement a centralized compliance framework for UK SOX that includes processes, risks, controls, financial accounts, evidence, questionnaires, tests, associated owners, and approvers. Easily organize data into appropriate hierarchies and map the relationships between various data elements. Leverage the 'multi-dimensional organization structure' capability to model SOX compliance program based on their organizational structure.
Streamlined Control Sampling and Testing
Plan and scope in the controls to be assessed, design control tests, while also defining test owners, schedules, scope, and frequency all on the same platform. Simplify search and select controls for testing based on various parameters and assign them to control owners or testers. Test controls for design and operational effectiveness by predefined questionnaires and surveys.
AI-Powered Intelligent Remediation and Disclosure Processes
Accelerate remediation action plans through automated workflows, notifications, and reporting processes. Review issues marked for disclosure and channel them to the disclosure committee for their recommendations and inclusion in regulatory filings. Leverage AI/ML to quickly identify and recommend issues, issue classification, and action plans based on relation.
Improved Compliance with SOX Certifications
Create plans, questionnaires, and schedules for certifications based on UK SOX compliance guidelines. Ensure consistency with parent-child relation established among various business units and sub-units. Provide assurance to management teams that subordinate levels have performed their internal control duties with comprehensive SOX certification report.
Simplified SOX Compliance Monitoring with Intuitive Dashboards and Reports
Easily track UK SOX compliance across processes, controls, tests, and self-assessment plans. Monitor the status of control design, process ownership, evaluation plans, test results, and other factors on graphical charts and reports. Drill down to view the data at granular detail. Leverage key control metric cards to track the number and test the effectiveness of controls.
How Our UK SOX Compliance Software Benefits Your Business
Ensure compliance with UK SOX requirements through a uniform and integrated approach to risk and control data management across financial processes
Save SOX compliance and audit efforts and costs by rationalizing controls with a risk-based approach
Boost investor confidence with transparent, accurate, complete, and reliable data on control testing and certifications
Improve trust and credibility with stakeholders by providing evidence-based proof of compliance and timely reporting
BUSINESS VALUE CALCULATOR
Trusted by Leading Brands
---
UK SOX Compliance