Measure Your Program Outcomes
Source: Based on MetricStream customer responses and GRC Journey Business Value Calculator
0
Reduction in the time and costs required to complete supplier assessments, and to identify risk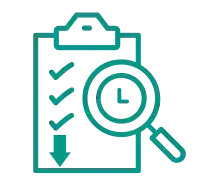 0
Reduction in supplier onboarding time
Accelerate Your Business with Effective Supply Chain Risk Management
---
The MetricStream Supply Chain Risk Management (SCRM) solution enables organizations to effectively manage, monitor, and track multiple stages of their supplier relationships. Built on the MetricStream Platform, the solution extends across your global supplier network, aggregating and mapping supplier and sub-supplier data for comprehensive transparency. The solution facilitates thorough assessments and audits of suppliers, thus maintaining a reliable pool of suppliers for each category of product or service. Through powerful reports and dashboards, organizations gain quick and comprehensive insights on their supply chain which then can be transformed into actionable business intelligence to support decision-making.
READ MORE Product Description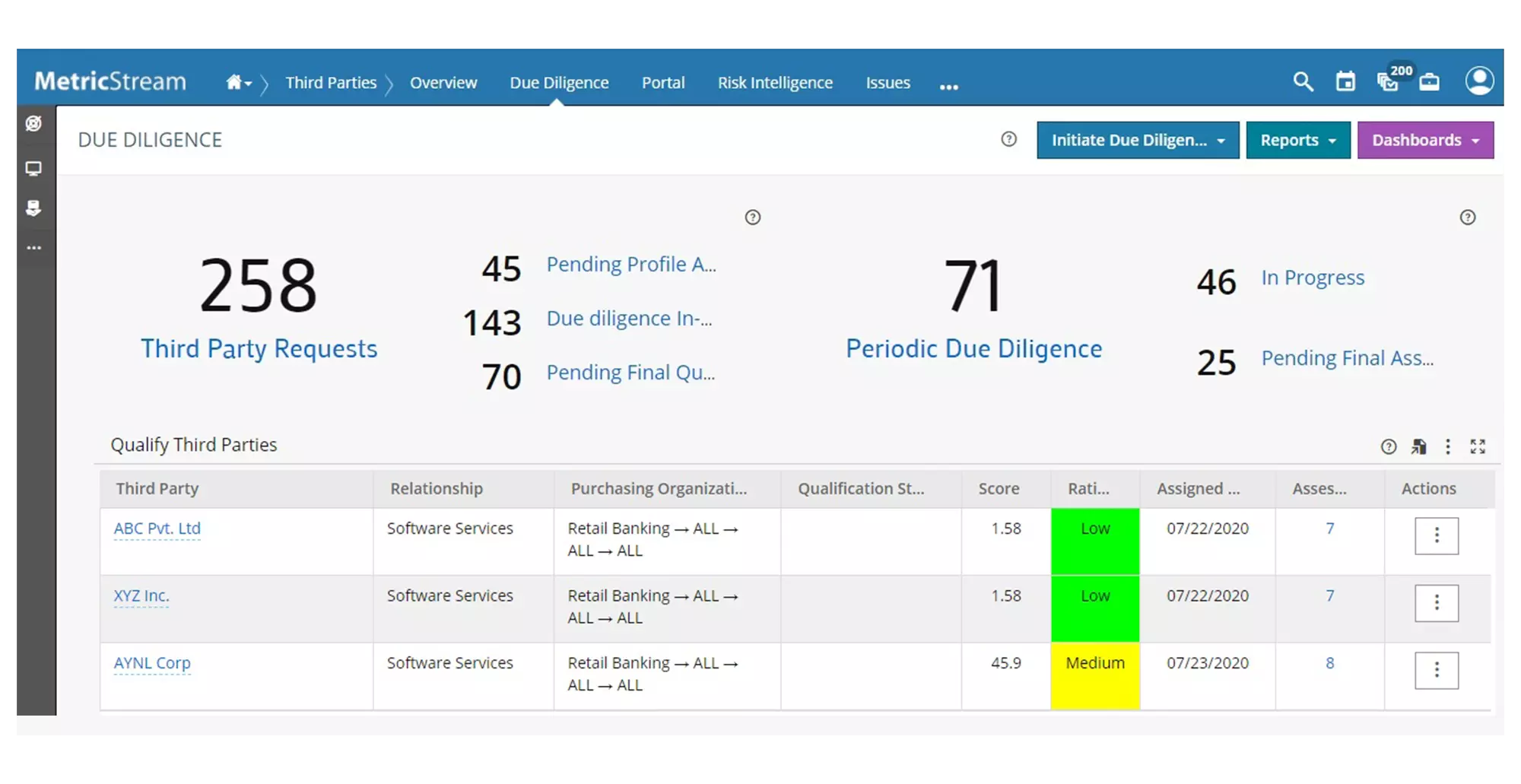 How Our Supply Chain Risk Management Solution Helps You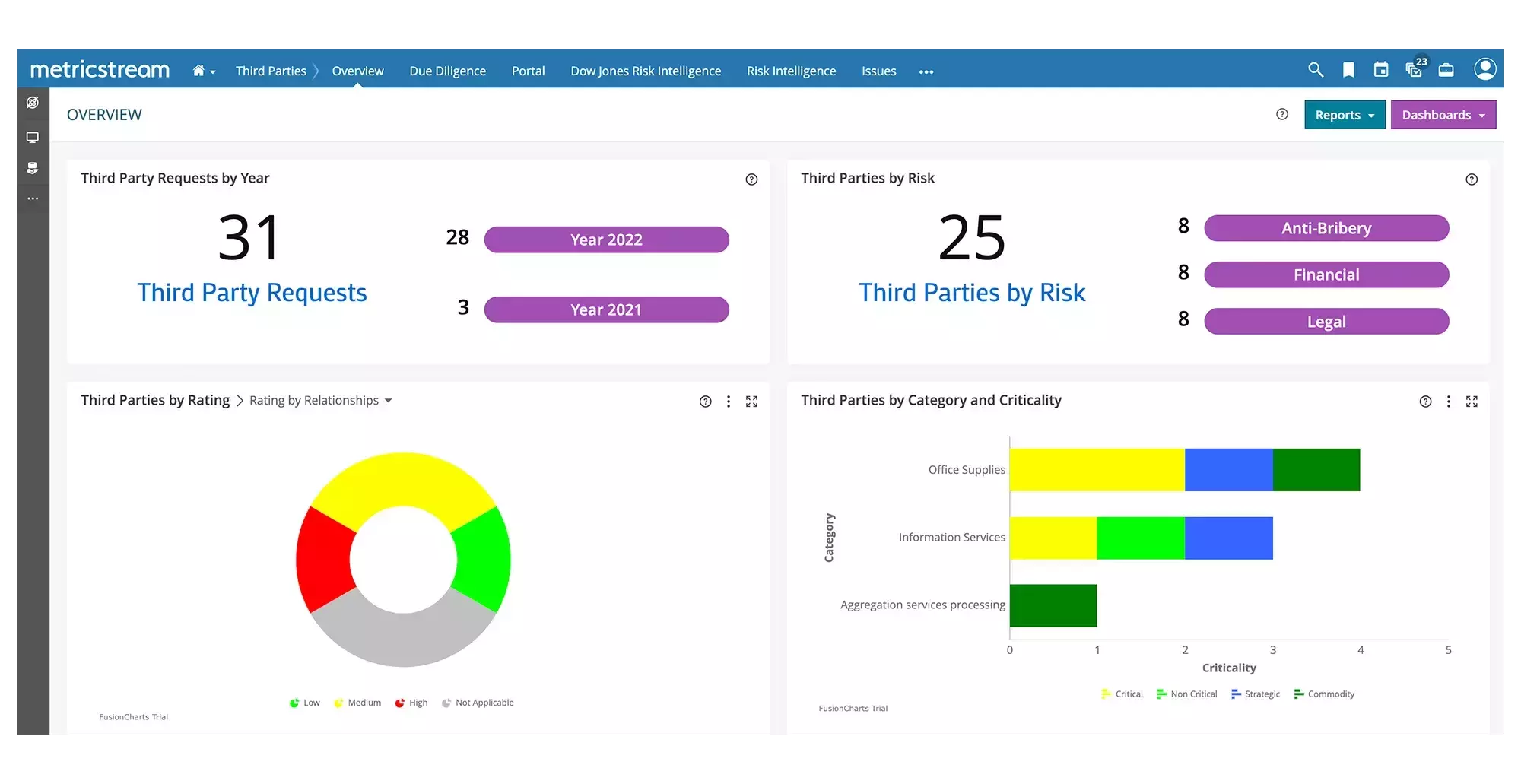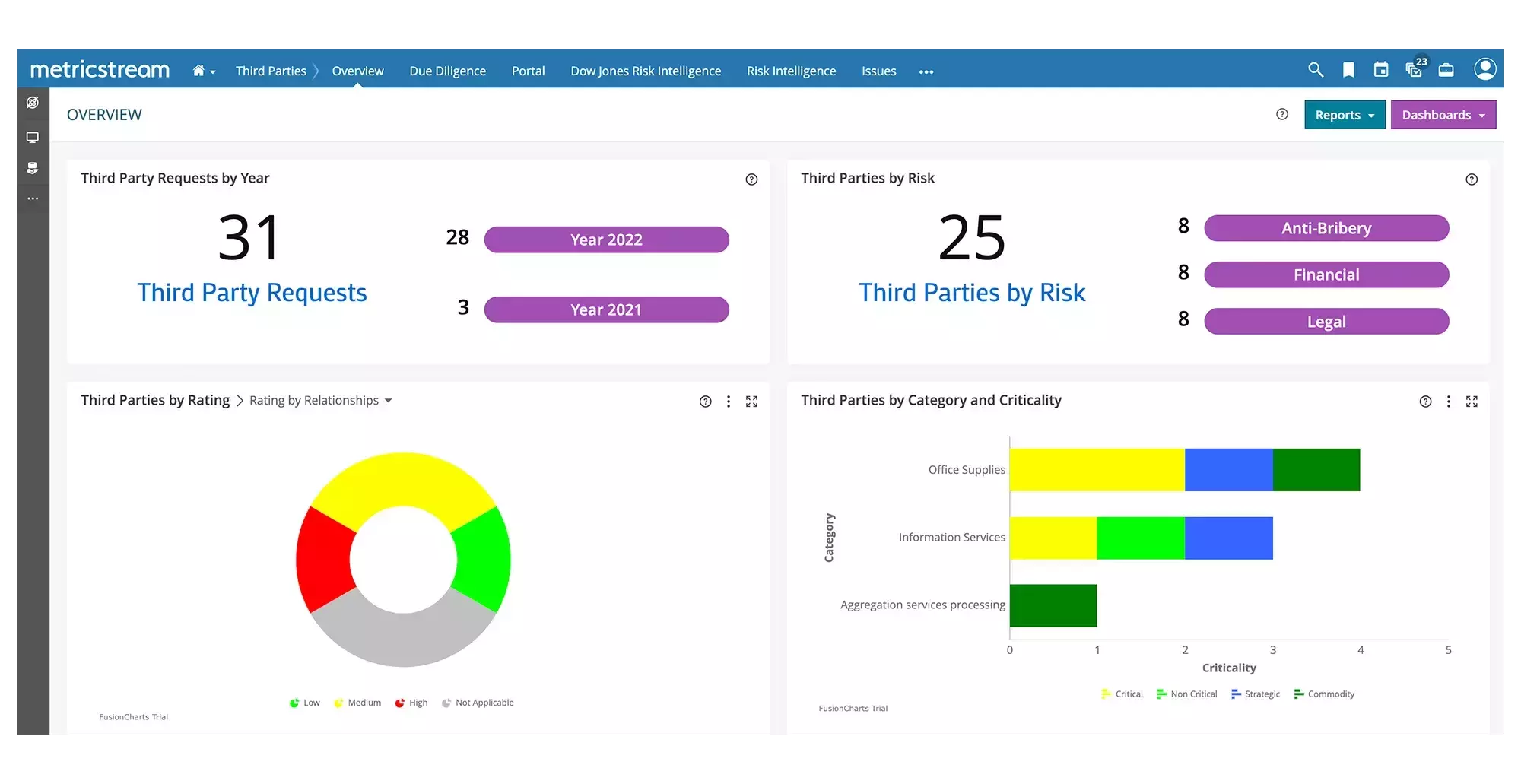 Effectively Manage Supplier Information and Documentation
Easily consolidate and rationalize supplier information within the supplier portal, including goods or services provided, contact information, contracts, associated business units, certifications, spend, country, performance scores, and risk or compliance issues.
Read More product benefit

Streamline Supplier Onboarding Due Diligence
Effortlessly manage supplier screening and onboarding, as well as new engagements with existing suppliers. Automate supplier risk scoring for further categorization. Screen and validate supplier information with the help of alerts from reliable internal or external sources.
Continuously Monitor Suppliers for Risks, Compliance, and Data Security Issues
Validate information on suppliers and gain insights into their operational and security risks, compliance, performance status, and sustainability ratings with the help of feeds from industry content providers. Review automated alerts, trigger risk assessments, and log issues for remediation.
Establish Supplier Compliance with Regulatory Requirements
Assess supplier compliance with ABAC mandates, FCPA, PCI-DSS, HIPAA, the HITECH Act, codes of conduct, information security, social accountability, anti-slavery, and other compliance requirements. Collect certifications and attestations in line with regulatory requirements.
Monitor Supplier Performance with Supplier KPI Scores
Define and monitor supplier performance metrics based on contracts and policies. Assess and track each supplier's key performance indicator (KPI) scores (e.g. cost, delivery, service, quality). Incorporate supplier performance and risk data from various systems, departments, content providers, and processes like audits, assessments, and inspections.
Ensure Supply Chain Resilience with Effective Business Continuity Management
Enable an effective business continuity management program in compliance with industry standards. Capture and track supplier business continuity plans and response to emergencies and critical events.
Read More product benefit

Conduct Supplier Audit Assessment for Better Assurance
Accelerate audit processes, ranging from information gathering, to audit planning and scheduling, field work, reporting, and issue remediation. Enable various types of supplier audits, including compliance audits, quality audits, safety audits, IT audits, environmental audits, social responsibility audits, and sustainability audits.
How Our Supply Chain Risk Management Software Solution Benefits You
Enhance awareness of supplier risks by validating supplier information with leading industry content providers
Improve supplier consolidation and rationalization, as well as visibility into the businesses, spend, assets, and risk exposure associated with each supplier
Gain higher confidence in sourcing and negotiation decisions with the help of historical data on supplier performance
Build business resilience through streamlined supplier risk assessments aligned with business continuity management
BUSINESS VALUE CALCULATOR
Trusted by Leading Brands
---
Supplier Risk and Performance