Measure Your Program Outcomes
Source: Based on MetricStream customer responses and GRC Journey Business Value Calculator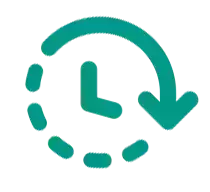 0
reduction in the time taken to manage compliance activities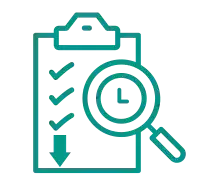 0
reduction in the time taken to create and update policies
0
faster response time to regulatory changes
Implement a Sustainable and Cost-Effective Corporate Compliance Program
---
The MetricStream Corporate Compliance solution enables an integrated and collaborative approach to compliance. The solution is built on the MetricStream Platform, which provides a strong foundation for automated workflows, collaboration, and real-time reporting. It provides organizations with the ability to break down restrictive silos and strengthen the integration of ethics and compliance activities. The solution serves as a single point of reference to manage multiple aspects of an ethics and compliance program, including policy management, a centralized library of compliance obligations, compliance assessments, surveys, third-party compliance, and case and incident management.
READ MORE Product Description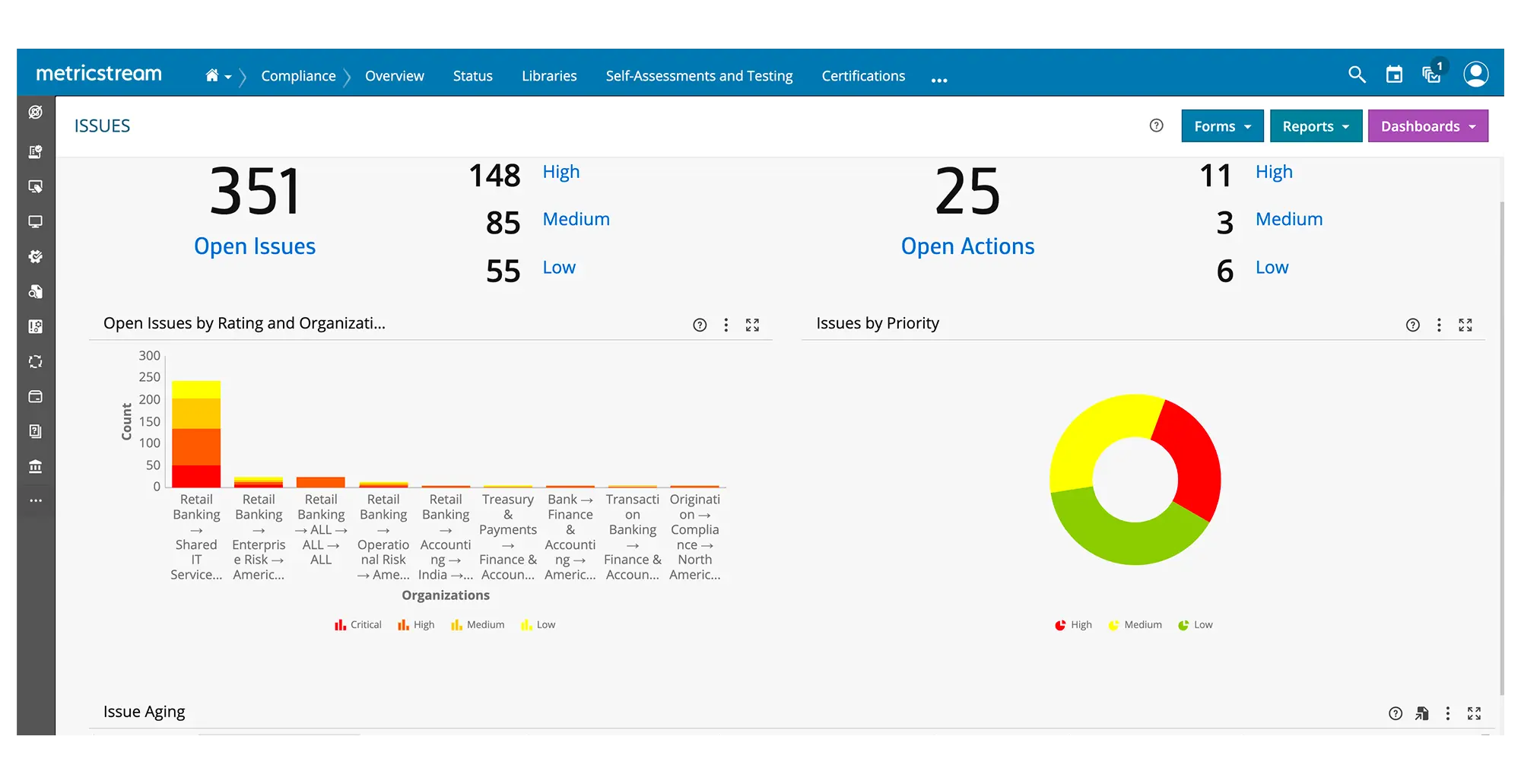 How Our Corporate Compliance Software Solution Helps You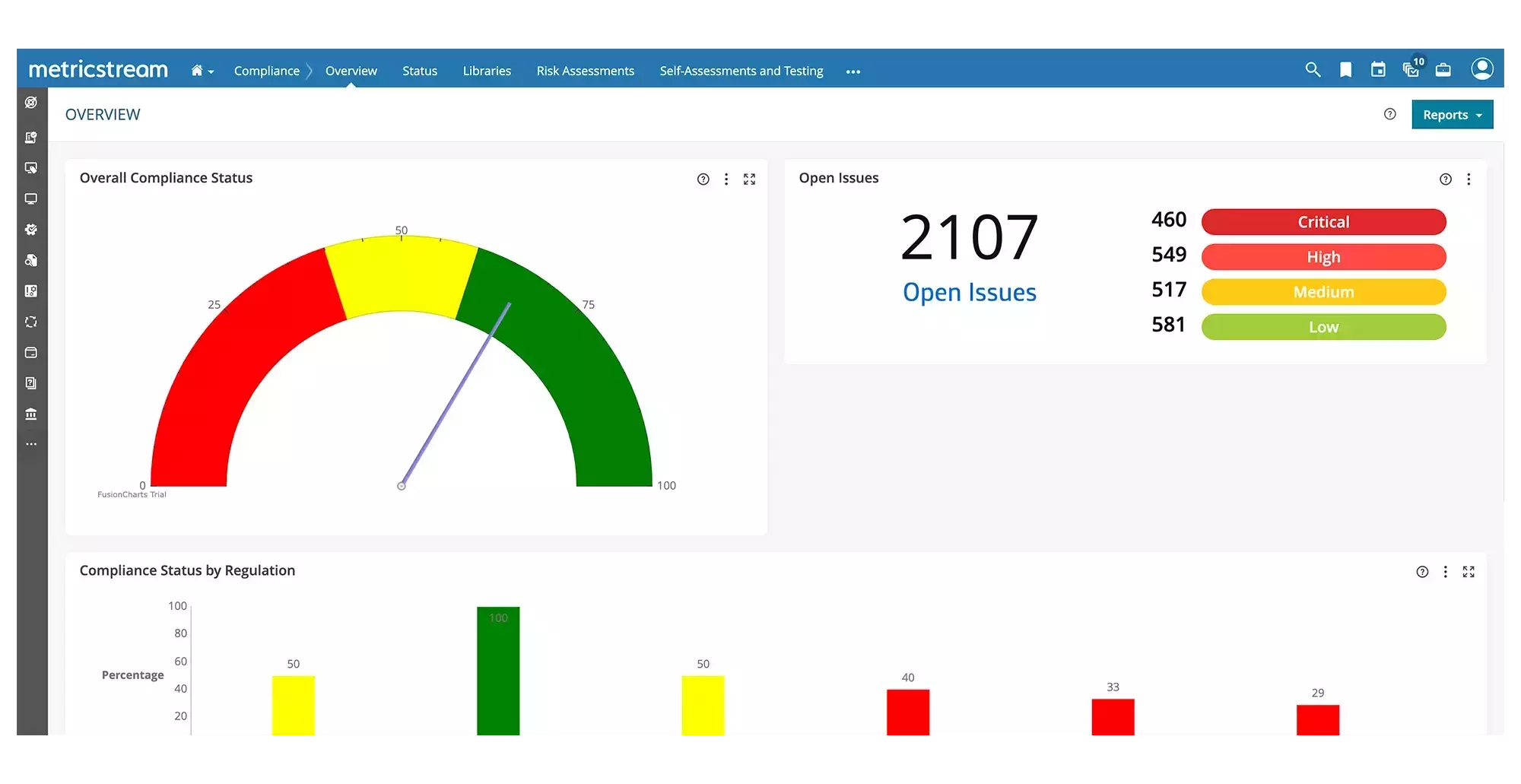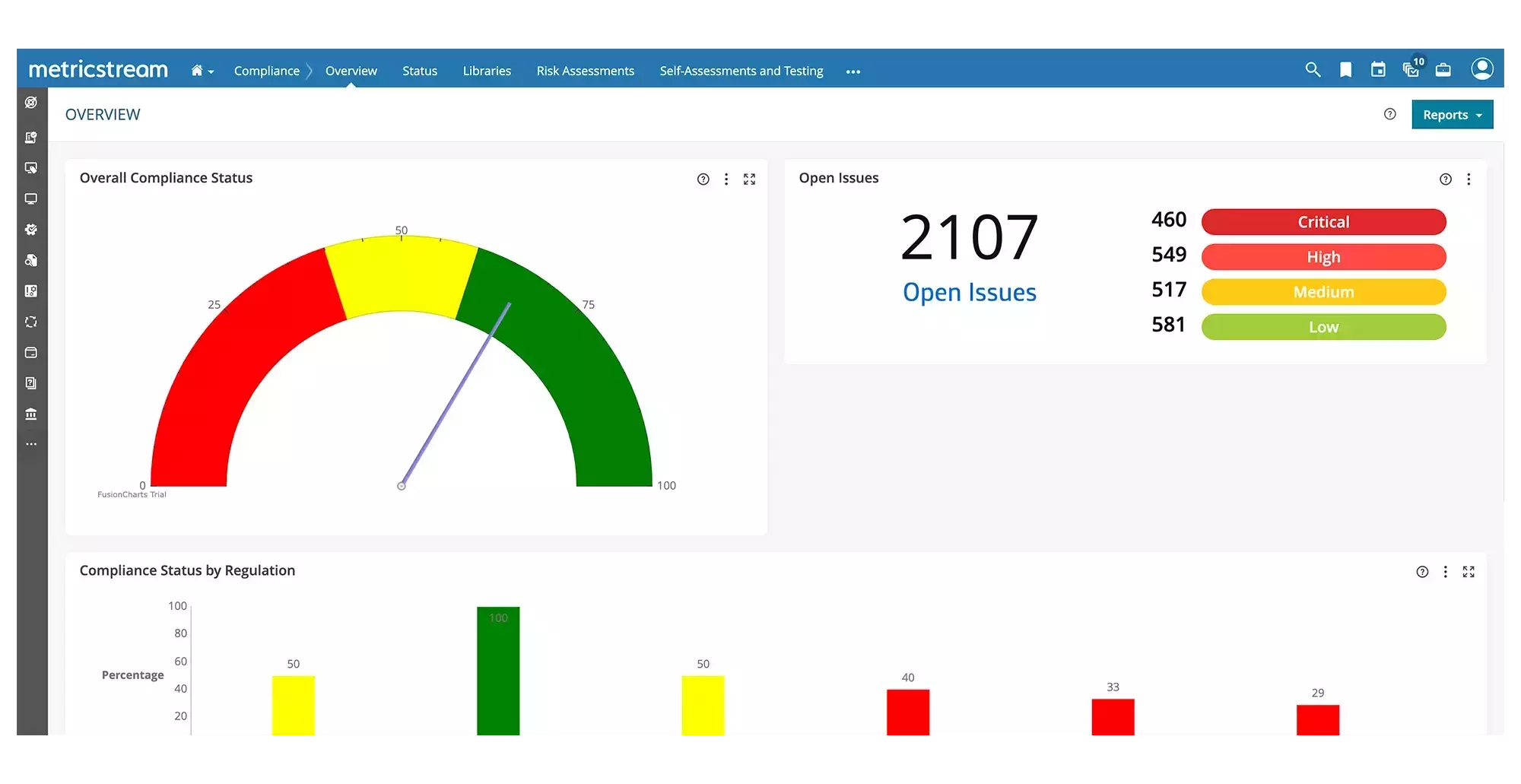 Effectively Create, Communicate, and Manage Corporate Policies
Enhance efficiency and consistency by automating and streamlining policy authoring, review, approvals, communication, employee attestation, and issue management activities. Map policies to regulations, risks, and controls to proactively identify potential gaps or blind spots. Leverage AI capabilities to curate thousands of enterprise-wide policies and documents to quickly find the required information.
Centralized Approach to Manage Corporate Compliance Requirements and Assessments
Integrate with authoritative compliance data sources to capture regulations, rules, and standards. Create a logical and structural compliance hierarchy using the centralized compliance library. Assess and score compliance performance across business units, processes, and geographies. Reduce the risk of non-compliance with real-time visibility and effective control testing.
Ensure Third-Party Compliance
Leverage rich, real-time global data feeds to effectively manage third parties' regulatory compliance status, financial status, credit rating, cybersecurity risks, sustainability ratings, and more throughout their lifecycle. Streamline risk assessments and due diligence through compliance surveys to third and fourth parties.
Seamlessly Manage Ethics and Compliance Surveys
Use configurable ethics and compliance surveys to manage disclosures of conflicts of interest and other evaluations such as codes of conduct, anti-corruption, and anti-bribery compliance.
Adopt a Consistent Approach to Case and Incident Management
Ensure consistency in how each case or incident is captured, triaged, investigated, tracked, and closed. Enable multiple stakeholders' collaboration on a case for its remediation. Leverage AI-powered workflows to track and manage cases and incidents.
How Our Corporate Compliance Software Solution Benefits You
Build a positive ethics and compliance culture and increase policy adoption with a consistent approach to policy communication and adoption
Stay on top of regulatory requirements and avoid regulatory fines by identifying risks, issues, and blind spots within the compliance framework and related controls
Ensure third and fourth-party compliance with the help of compliance surveys and assessments
Improve the efficiency of the compliance function and processes through automated control assessments and testing
BUSINESS VALUE CALCULATOR
Trusted by Leading Brands
---
Corporate Compliance