AI-Powered Recommendations for Risk and Compliance
---
MetricStream Intelligence is a flexible analytics and AI engine that encompasses multiple calculation engines, AI/ML, and data science capabilities. AI is an integral component of the MetricStream Platform, deployed and operationalized using cloud-first practices, and can be used to build any model or automate any GRC use case. MetricStream Intelligence currently offers pre-built AI-powered recommendations to transform and automate GRC processes. It automatically provides key recommendations to users based on the historical patterns, so that organizations can further improve user experience and drive intelligent decision making.
GET MORE DETAILS Product Description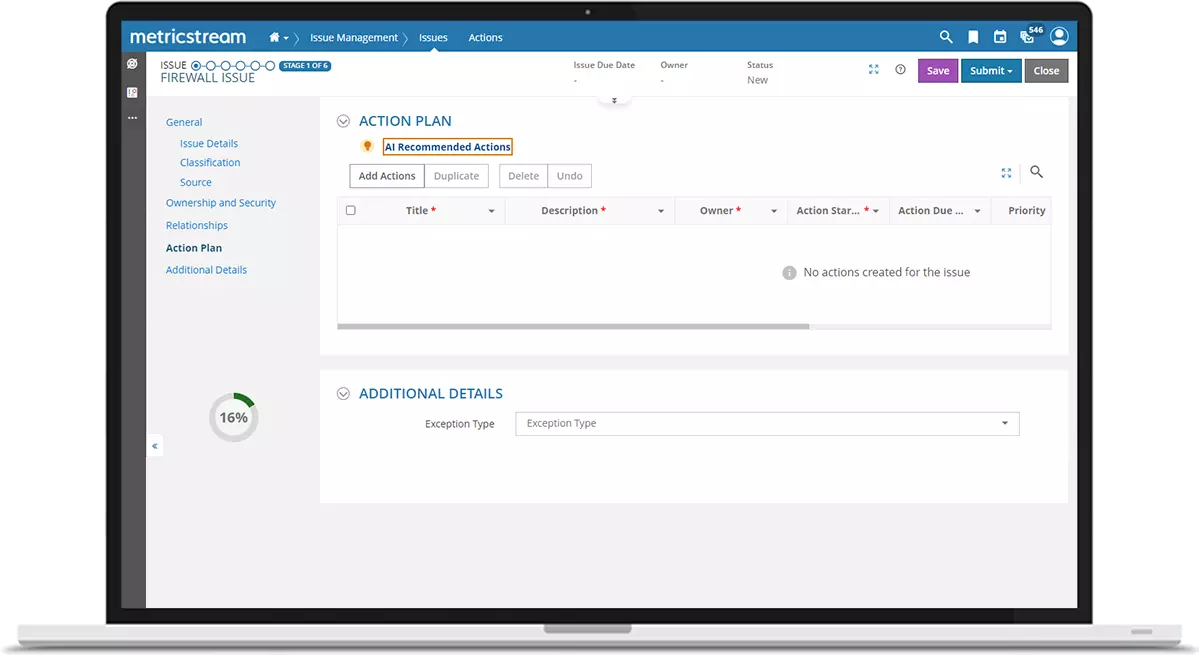 Transform your risk and compliance programs with MetricStream Intelligence
Business Value Delivered
---
Faster and accurate AI-powered remediations for issues
Improved accuracy of searching policies based on searcher's intent and not just on specified keywords or search text
Enhanced efficiency of triage team with AI-powered recommendations to classify observations
Effective third-party risk management with AI-powered risk scoring of third parties
Key Features
AI-Powered Issue & Remediations
---
Identify patterns in issues and actions, view recommendations to categorize issues, and get the best possible action plans based on historical trends and business context.
AI-Powered Policy Search
---
Search policies based on searcher's intent through contextual meaning by using a natural language processing (NLP) based semantic search.
AI-Powered Observations Triage
---
Leveraging AI-powered recommendations to classify observations as a case, incident, issue, or loss event, and route them for review, approval, and closure.
AI-Powered Risk Scoring of Third Parties
---
Automatically extract content from SOC2 and SOC3 reports, compute, and risk rank the third parties based on the number and type of anomalies in the report.  
AI-Powered Recommendations