GRC Journey TM from MetricStream helps our customers derive value by managing GRC as a program. In doing so, customers can build high-value integrated risk programs throughout their organizations.
MetricStream's Platform and products help accelerate organizational readiness and improve business performance by managing GRC as a holistic program, involving people and processes.
Orchestrating success across a wide range of stakeholders with diverse approaches to risk can be challenging. MetricStream and our partners are here to help. We understand that any GRC initiative takes thoughtful planning and requires participation and adoption from the right set of sponsors and stakeholders. Over the past years, we've taken many GRC Journeys with our customers, enabling them to thrive on risk.
GRC JourneyTM Workshops
---
GRC JourneyTM workshops help organizations realize immediate value from their GRC Programs while executing a solid roadmap that moves their organizations to optimized risk and resilience. Customers benefit from various formats available for these workshops ranging from enterprise-wide to deep dives on specific domain topics.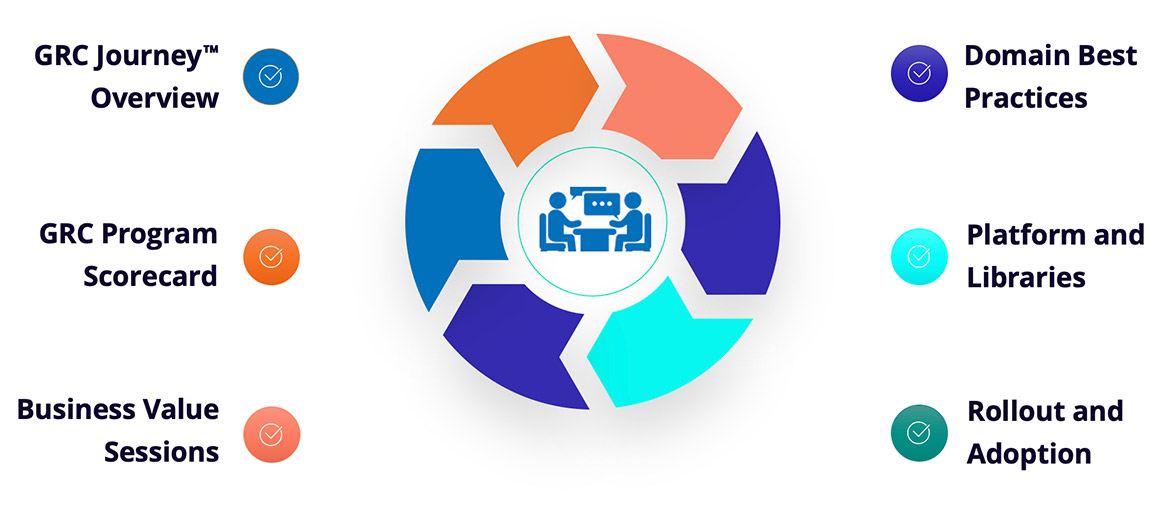 MetricStream Community
---
MetricStream provides a highly engaged community where GRC champions and sponsors can collaborate on best practices to meet their organization's GRC vision and maximize value from investments.
Unlike traditional approaches to GRC technology deployments, GRC JourneyTM accelerates time-to-value with practical, curated GRC program blueprints, guidebooks, artifacts, and best practices that are continuously improved and extended by an active online user community and MetricStream Special interest groups.
Community members embark on and successfully navigate along their journeys by leveraging MetricStream best practices and insights from hundreds of MetricStream customers.
ENTER THE COMMUNITY GRC Product Description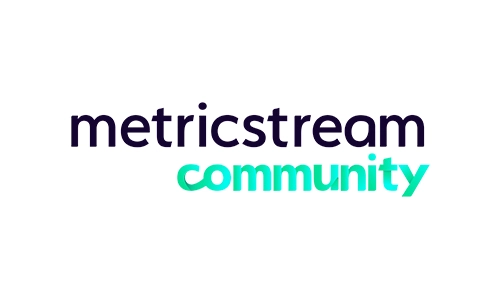 Calculate the Value of Your Journey
---
We've created a simple tool for you to measure how MetricStream's GRC products can create real, quantifiable value for your organization. Our calculators help you anticipate the potential benefits, efficiencies, and cost savings that can be realized as you:
Increase your organization's ability to thrive on risk
Protect your organization's brand and reputation
Rationalize risks, controls, and processes
Reduce human capital and travel costs
Lower the risk of fines and failures
Retire inefficient tools like spreadsheets
BUSINESS VALUE CALCULATORS Product Description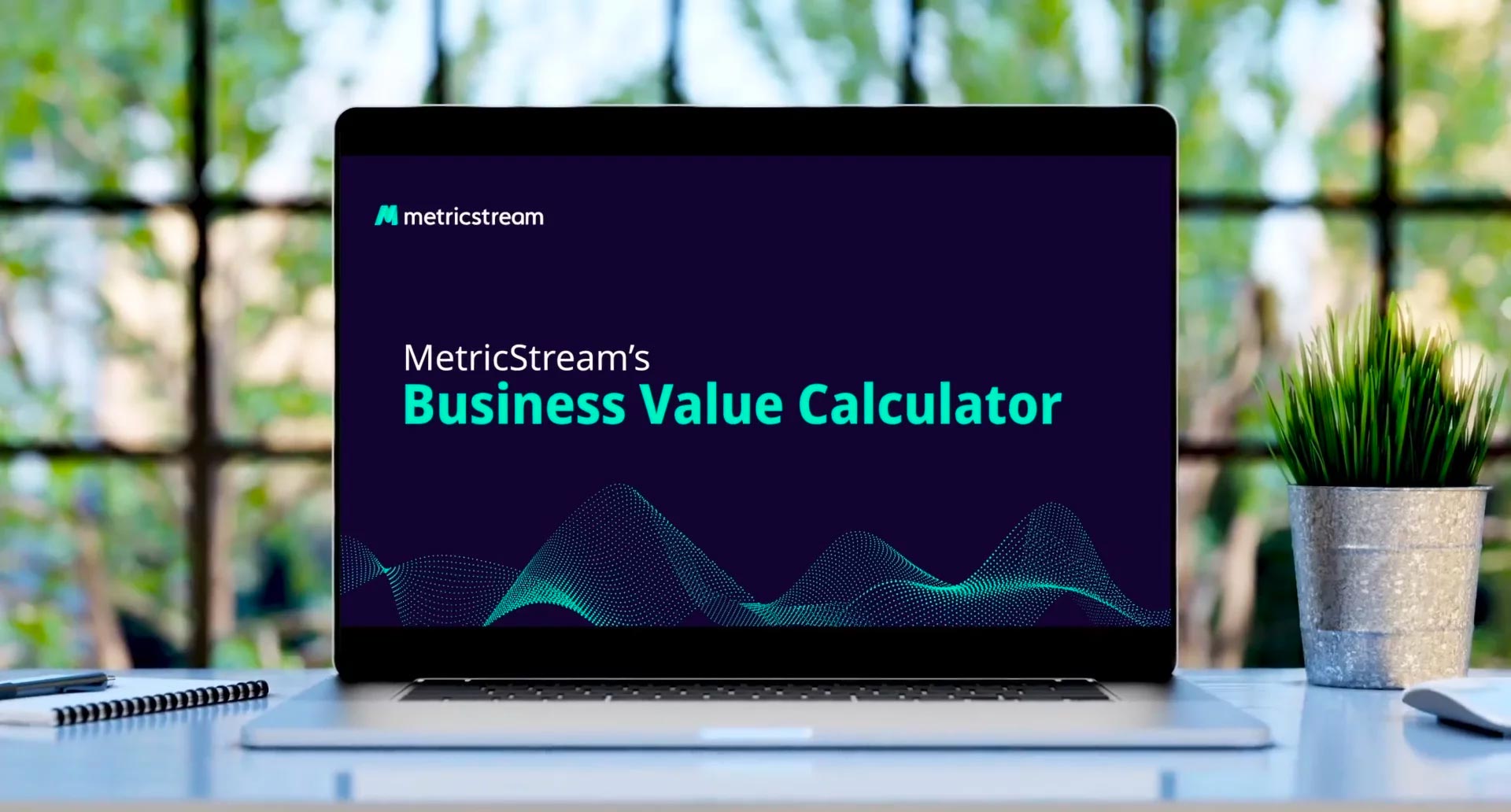 GRC Program Scorecard
---
Benchmark your organization's GRC program to see where you stack up against your peers.
GRC program capability is about the whole picture - the inter-dependent domains of strategy, governance, and risk driving a culture of risk, resilience, compliance, and social responsibility while a business meets its performance objectives.
Many MetricStream customers are embarking on a GRC JourneyTM with multiple initiatives that serve a broad range of stakeholders.
They get on the same page by self-assessing around 16 simple but critical questions related to GRC program strategy, operations, and technology-based capability choices against best practices derived from industry-recognized criteria.
TAKE THE GRC SCORECARD SURVEY Product Description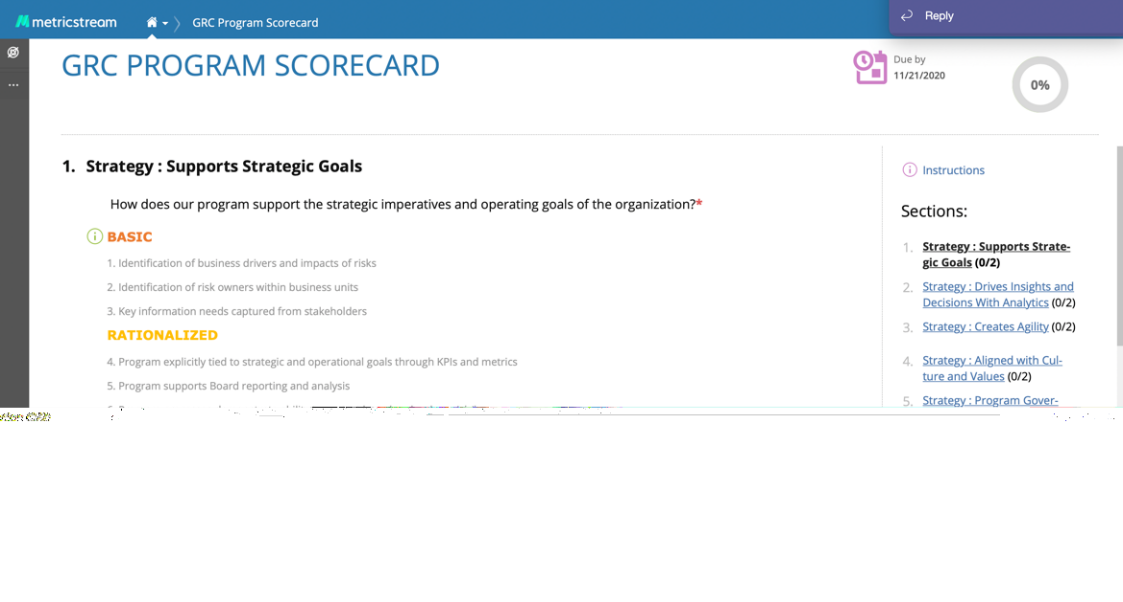 GRC JourneyTM Awards
---
Launched in 2015, the GRC awards ceremony is held at the GRC Summit Gala Event – it's like the Academy Awards for GRC. Together we celebrate and recognize customers and partners - individuals and teams - who are leading their organizations' GRC journeyTM, championing GRC programs, and achieving superior business performance and high-value impact through GRC. We've given over 90 awards during our summits to outstanding GRC program leaders, visionaries, practice leaders, and partners.
LEARN MORE ABOUT OUR CHAMPIONS Product Description